A Brilliant End of Year Result for St. Anns
With our financial year coming to an end we wanted to take a few minutes to reflect on some of the successes from the past year. I think it's best to start with our biggest headline is that for the first time St. Anns have invoiced over £3 million! Needless to say, we're truly proud of this result and want it to be known that the management team here at St. Anns are immensely proud of the hard work on our shop floor that has made this milestone possible.
Truly a fantastic result with the cherry on top being that May also broke the record for most work invoiced in one month! Our Production Manager, Simon Wisher has been over the moon with the hard work his team has put in!
What's the other End of Year highlights?
St. Anns is currently undergoing a period of change to help us meet a more demanding market. It's with this in mind that we're happy to let our readers know that we've been examining the ways that we work in order to make sure that we have the flexibility to cope with our customers changing needs.
This includes the continued roll out of our ERP system, Mie Trak. A system that has harmonised the way that we work. Instead of using several different programs we're able to deal with our customers needs from start to finish in one go.
One of the other way ways that we have changed the way we with is by working with our ERP partner Mie Trak to install their Kiosk system onto our shop floor. This allows our operators to log into and out of jobs as they're being worked to allow us to work with exact times. Thus making our quoting a lot more competitive as we're not having to estimate as much!
In terms of our people development. As mentioned in our post on the 19th of May, we've had Hesura join the team and so far he's been instrumental in changing the way that we work in terms of cost analysis and is now bringing his talents to bear on our quality control!
Another change in our team, and this might be me being a bit biased, but we're pleased to announce that we've expanded our incredibly talented (and handsome) sales and marketing team to help keep up with our growing customer demand as well as to start conversations going with new customers about what we can help them with!
So as you can see, it's been a busy year here at St. Anns!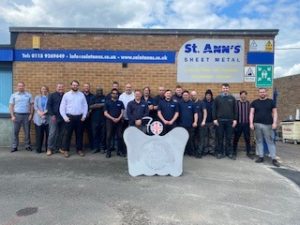 End of year? What about next Year?
Next year is truly shaping up to be another fantastic year for St. Anns. What we're most excited about is the installation of our new paint line. We've been in the processes of converting our overflow stock room into the new service. This is one of the ways that we're looking to provide extra value to our customers. We'll also be reaching out more to our customers to understand what's important to them as well as what we can do to improve our service. You can have your say by clicking this link!
On top of that, we've been looking into ways that we can make the most of, and even increase our factories footprint whilst decreasing our carbon footprint. So stay tuned for more information on that!