A Quick Update On Powder Coating!
As you may remember a few weeks ago, we announced our new powder coating service. Well now as things get busy here in preparation for this fantastic new service we thought it would be best to give you a update on powder coating! It's been all go here at St. Anns as we get our top of the line equipment. The old overflow warehouse has undergone a complete refurbishment, the gantry has been installed, the baths have been welded and are waiting to be bolted down and our top of the line GEMA paint system is ready to go.
Working with such a limited space has thrown up a lot of issues something our Project Manager, Keith has been keen to highlight. He let me know that the secret to the success of the paintline has been in the custom racking we've installed. Whilst most people would've installed racking square with the length of the wall we had to get creative due to spacing. The way we did this was to install the racking at an angle. Now this might seem counter intuitive at first as angled racking takes up more floor space, but as always there's method in the madness.
As the racking will be serviced via our electric forklift having the racking up against the wall would require the forklift to make a full turn in and out. To cut down on the space needed for the forklifts turning circle Keith had the bright idea to install the racking at an angle to the door. This way the forklift will be able to pretty much drive straight in and reverse straight out!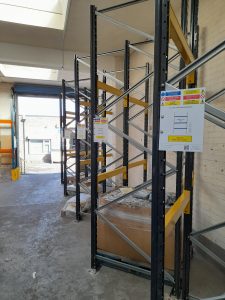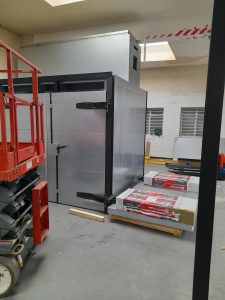 What Else Is Going On?
Apart from the clever racking, the gantry has been installed at the heart of the workshop. The baths are ready to be installed and our industrial oven is almost ready to be switched on. Keith's tour walked us through the entire process and we're very excited to say that from start to finish the entire will be approximately one hour depending on the quantities! Which is fantastic news for customers who are conscious about lead times. Not only that but the layout of the powder coating process has been optimised for efficiency which makes quantity not an issue for us!
What's Coming up?
We'll be announcing a go live date for the Powdercoating very soon. Before that though, we're looking forward to sharing more information about the paint line as well as introducing you all to the people that will delivering the quality our customers expect!
In the meantime, why not have a read about our top of the line GEMA Paint Gun? Or click the 'Get A Quote' button to let us know what you need?