Bringing More Services In House - Powder Coating!
We wanted to dedicate this weeks blog to letting you know a bit more about our brand new paint line. We had mentioned it briefly in our Business Update in April, but we wanted to provide a bit more information for potential customers and to officially announce it properly.
This is part of a plan grow the business in a way that keeps our customers at the heart of what we do.
Why Powder Coating?
It was with our customers in mind that we decided to go ahead with painting as our new process as it's one that a lot of our customers use and one that we've had to subcontract out. The reason we felt it was in our customers best interest to take it in house is that powder coating is normally the last step in our customers journey with us and is the one that is most visible. So it's important to us that our customers experience the same level of quality on their finished product as they get at every step of their St. Anns journey.
Not only does bringing Powder Coating in house allow us to control the quality our customers experience, but it also allows us to control the lead time on the work in our paint plant. This means that customers that choose to use our services can expect their goods that little bit quicker than if we have to subcontract it out to one of our trusted suppliers.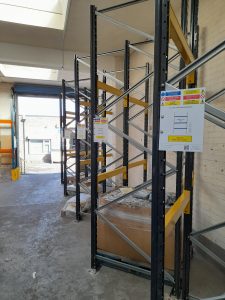 What to Expect
After speaking to our very own CI & Project Manager, Keith Hayes, he let us know that no expense has been spared on this project in order to ensure that we can offer our customers the very best in quality. This ranges from top of the line safety equipment to our new GEMA Paint Gun. Since the gun is the most exciting part, we'll give you a bit of information to show our commitment to getting the job done right!
Choosing the right tool for the job is something that's always difficult to do. There's a lot to weigh up and for a while we were going to go with the conventional choice but in the end we decided that the product for us would be the GEMA Optiflex Pro B. As a company GEMA are the market leaders when it comes to technology and quality, in fact one of their selling points is an app that will tell you how much paint is being used in the plant. Something I'm sure our price conscious CEO would be interested in!
The Pro B as a product is a high quality paint gun but what sold it to us is technology that GEMA brings to the table. GEMA's Optiflex Pro B model comes with their patented wrap around technology, which works by creating a positive electrical charge in the powder used for the coating, this coupled with the attaching an earthing wire to the part that needs coating means that the paint is drawn to the part by creating an electrical field around the product. This creates a wrap around effect and makes difficult to spray jobs a lot quicker and easier for a skilled technician to complete.
For more information on the equipment we're using, why not take a moment to check out GEMA's website?
New People at St. Anns!
As mentioned above, to compliment this new service and the wonderful technology from GEMA, we're excited to announce that we will be taking on two experienced powder coaters with years of experience. Their experience a welcome addition to our team, so keep an eye on our social media accounts for upcoming introductions. We look forward to sharing how they'll help us, help our customers.
So as you can see, it's all go here and we'll be excited to share more information with you as the installation and launch of this exciting new service goes ahead. In the meantime, why not get in touch to see what we can help you with!