As the sponsors of Club Doncaster we're looking forward to the start of the Rugby League World Cup hosted at the Eco-Power Stadium. The world cup kicks off on Monday the 17th of October at 7:30pm with what should be a brilliant game between France and Greece! As sponsors of Club Doncaster, we're looking forward to seeing who comes out on top.
And as hosts of the Rugby League World Cup, Doncaster can also look forward to a whole range of events linked to the cup. Such as a performance of the Sivi Tau by the Somoan team.
What to expect from St. Anns during the Rugby League World Cup?
As Silver sponsors of Club Doncaster, you're likely to notice St. Anns branding around the stadium. This includes around the pitch, on the TV and in the background here and there. Along with that you can likely spot members of the St. Anns team in around the stadium during the cup games, I know that our own CEO Neil Bradshaw might be tempted to drop in as a big Rugby Fan.
We'll also be posting on our Social Media channels with updates on scores so keep an eye out for that!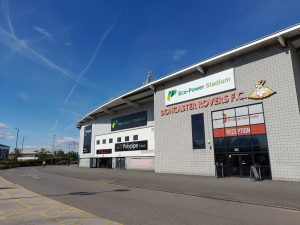 Exciting Times to be a Sponsor
We're very pleased with our choice to sponsor Club Doncaster and join the 100 Club. We're excited to see what our relationship brings and are happy in the knowledge that we're helping the Doncaster community during these difficult times through sponsoring sports.
It's all go here at St. Anns and we're looking forward to bringing you more news about upcoming relationships, processes and changes within the business. So keep an eye on this blog and our social media to keep up to date on all the upcoming changes to your favourite Sheet Metal Manufacturer!