Our Partnership with Club Doncaster
St. Anns are pleased to announce our partnerships with Club Doncaster, home of the DONS, the Belles and Doncaster Rovers! We've chosen to sponsor Club Doncaster due to their fantastic reputation in the Rugby community and for Doncasters links to the rail industry. What really sealed the deal for us though was the Club's commitment to the people Doncaster. They work with a wide array of partners within the Doncaster area to support the local community by providing them with opportunities to participate in sports and all the physical, social and community benefits that come with it.
As our social media follows are aware on Saturday we sponsored Rovers match against Swindon Town, which was attended by the St. Anns management team. As we'd sponsored the match, it was down to the management team to select the man of the match. A difficult task given how well Doncaster Rovers played on the day, but in the end the final decision was made by our own Paul Mott who picked the brilliant defender Kyle Knoyle.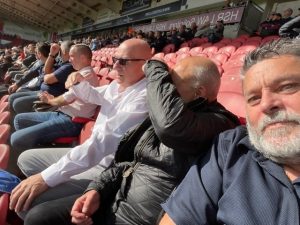 What Comes With The Sponsorship
As well as joining the 100Club list of Club Doncasters sponsors and the satisfaction of knowing that we'll be supporting sporting opportunities for the people of Doncaster, we can look forward to seeing the St. Anns logo on the DONNS uniform. We'll also be getting some good advertising opportunities as well as access to the Executive Box for entertaining our valued partners. As an extra added bonus we'll also be heading to VIP events for the Club 100 sponsors!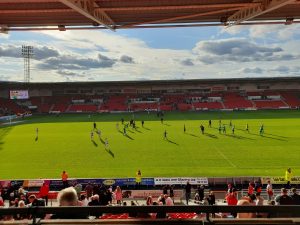 Future Opportunities.
This is another fantastic win for St. Anns, as the company continues to grow and flourish we'll be here to provide you all with the latest about what's in the pipeline for the business. We're always on the look out for ways to grow the company and to support the growth and development of the communities that we service around the UK. Keep an eye out here for any future announcements or opportunities.