Why We Strive For Excellence.
St. Anns has always been a company that holds excellence at the heart of what it does. We believe that the best way we can serve our customer's is by listening to our customers needs. It's only by listening to our customers that we can truly offer them what they need. This can be demonstrated in multiple ways. Such as installing our new powdercoating service in response to customers concerns about the longer lead time and higher costs of subcontracting the service.
More importantly though, Excellence this has been a tradition stretching back to when the company was founded. This can be demonstrated by the fact that we have been certified to an ISO:9001 standard since 1991!
What ISO:9001 Is and What It Means for Excellence
ISO:9001 is an internationally recognised standard for quality management, used by over a million companies world wide. Being certified means that you have to be able to show a commitment to BSI's quality principles and hold yourselves to the highest possible standards in manufacturing. This commitment is backed by an independent yearly audit where the businesses practices are held up to the highest scrutiny.
So with a massive sigh of relief, I'm pleased to say that we've passed this years audit with flying colours! Which brings us to a total of over 30 years of a proven commitment to excellence in manufacturing. St. Anns would also like to take a moment to thank our Technical Quality Control Officer, Hesura Vandebona, for his role in getting us over the line with the audit this year.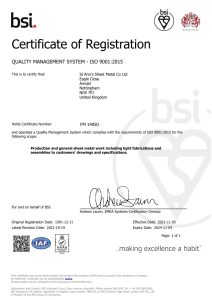 The Future For Excellence.
With this years audit passed, we are making sure that we're not becoming complacent. We're always looking for new ways to improve on what we can offer, who we can offer it too and what we can do to excel!
Stay tuned to our blog for some exciting news in the near future on what quality and excellence means to St. Anns and what we're doing to bring them to new customers.