BSI:ISO 9001:2015? What Is it?
BSI:ISO 9001:2015 is a certificate given for quality management systems in manufacturing, provided by BSI. BSI was as a business was formed in 1901 by the Engineering Standards Committee and adopted the name of the British Standards Institution after receiving it's Royal Charter in 1929 before shortening it to just BSI in 1998. Since then the group has begun to operate in 195 countries with a core mission to introduce high standards in quality in engineering. With that sort of history, you know they're serious!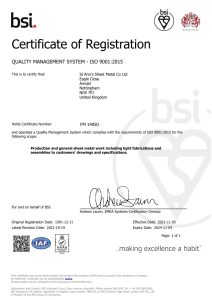 How does that effect us?
Currently Saint Anns is certified to BSI:ISO 9001:2015 standards. ISO 9001 part of a family of quality management system that is focused on ensuring that a business can meet the quality standards of it's stakeholders. It's also in place to ensure that any business meets regulatory requirements for their products and services. That's why we're proud to say that we've been ISO 9001 certified for over 30 years now!
The reason we're proud to advertise that we're ISO 9001 certified is that it clearly demonstrates our commitment as a business to delivering the quality and professionalism demanded by our customers. Something that has allowed our business to go from strength to strength. This is backed by BSI's own study that shows that:
-50.6% of businesses with an ISO 9001 certification attract new customers.
-50.6% of business report improvements in products or services.
-60.8% of business report an increase in trust in their business.
Some very valuable figures in todays business environment.
How does BSI:ISO 9001:2015 work?
BSI:ISO 9001:2015 follows the PDCA (Plan, Do, Check, Act) method used in design for continuous improvement. In PDCA the idea is that in the plan phase, you establish your objectives and the processes need to complete them. Next up is the do phase, where the processes from Plan are implemented with the next step being Check which is where the effectiveness of the processes is assessed on how well they met your objectives. The final step is Act, sometimes called Adjust, where any short comings identified in Check are addressed and processes are adjusted.
PDCA remains at the heart of ISO: 9001 with companies having to show a commitment to continual improvement in the context of their organisation in order to become certified. In order to do this the business is audited and presented with a list of nonconformities (problems) which the company then has to present an improvement plan to show how they're going to address the nonconformities and will display how they intend to correct their nonconformities.
Quality Through Continuous Improvement
BSI:ISO 9001 isn't a once and done sort of deal. A company needs to apply to be recertified to the latest standards every few years and can only pass if they show a commitment to continuous improvement. That's why Saint Anns is happy to shout from the roof tops that we've been certified for over 30 years. That level of commitment to improving the way we work isn't something a lot of businesses can brag about!
To find out more about BSI ISO standards, why not take a look at their website here