Make UK - A Bit About The UK's Manufacturers Organisation.
Make UK offer manufacturers a range of services to help their members succeed in the modern workplace. Previously known as the Engineering Employers Federation (formed in 1896), Make UK have a long history of helping the UK manufacturing sector succeed against all sorts of issues. They offer a range of services for their members which range from Productivity Improvements to HR and Legal. So with this in mind we're pleased to shout about our decision to join them as a member!
To learn more about them, why not check out their website?
Our partnership is something that we're excited about as Make UK is the most powerful, professional force backing UK manufacturing through their links in industry, the government and business services. So we can see very exciting times ahead!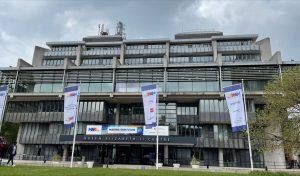 Why Have We Chosen to Join?
As mentioned previously, Make UK are a powerful force representing manufacturing in the UK. Our CEO, Neil has been down at their conference in London. A conference attended by the Secretary of State for Business, Energy and Industrial Strategy, Kwasi Kwarteng from the Conservative Party. As well as the Shadow Secretary of State for Business, Energy and Industrial Strategy, Jonathan Reynolds from the Labour Party. So they certainly tick the box for clout!
What interested us though is a combination of what they can do to help us improve our productivity on the shop floor. Saint Anns are a company that are always looking to improve in both quality and cost. Make UK's 126 years of experience in helping UK manufacturing can help provide us with valuable insights into what we're doing that can be improved upon process-wise.
What Else About Make UK Has Us Excited?
Make UK are committed to helping the UK Manufacturing industry succeed. An ideal that is shared with Saint Anns. One of the reasons we are excited about Make UK is that it allows us to use our skills and experience to help other members. This can be through prototyping, or a full fabrication run. Make UK offers us the ability to connect with other businesses in order to help them succeed.
We're excited about what this Partnership can offer and I'm sure we'll be updating you about our progress in the future!