Business Updates - What's coming up with Saint Anns?
After a long weekend and some beautiful weather spring is certainly in the air. With that in mind, we thought it would be a good idea to provide you with a few business updates on what we've been working on, and what you can expect from our blog going forward.
As those that have dealt with us in the past know, Saint Anns takes continuous improvement very seriously. It's what helps us keep our customers at the heart of what we do.
With that in mind, we've got a new service we want to tease you all with. As well as a bit of information on what we're doing on the shop floor to improve ourselves. Along with a little something we've been doing behind the scenes.
They'll be a bit more information with future blog posts, but for now it's just a hint of what we've been working on!
Striving to do more
Saint Anns has always been a company that has striven to try and do more for our customers than the competition. That could be using our teams skills to provide more options, rare processes or just better customer service.
So it shouldn't come as a surprise that Saint Anns will soon be officially announcing our brand new paint line.
It's something that we're extremely excited about as the new painting capacity will allow us to bring a significant portion of third party work inhouse. This allows us better control over pricing, quality and cuts down on the lead times some of our customers can expect from us.
We'll be letting you know more closer to launch!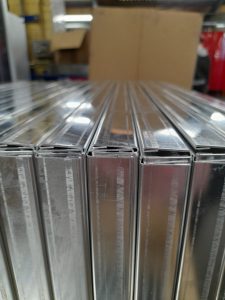 What else is going on?
As some of you might be aware, last year we saw the official launch of our new ERP system, from the brilliant Mie Trak. We're very pleased with this ERP system as it has saved us a lot of time and effort in all areas of the production process!
Along with that, what you might not have known is the amount of work we've been doing in the background using Mie Trak to analyse our quote performance and hone in on our quoting. This has allowed us to analyse what we're quoting and compare it to what happens on the shop floor. This has saved us a massive amount of time and money, which is savings we can pass onto customers.
What I'm also pleased to say is that we've taken advantage of Mie Trak's versality and rolled the system out onto the shop floor in the form of their Work In Progress (WIP) system. This allows us to measure the exact times each task takes. Something that is invaluable from a reporting perspective as production on the shop floor ties into all areas of the business.
Interested In Knowing More?
That's the end of our Business Updates for now. As I said earlier, all of this will be covered more in future posts. So keep an eye out for those in the future! In the meantime, just know that Saint Anns is always improving and are happy to share our journey with our valuable customers.
In the meantime, why don't you let us know what we can help with you by clicking the "Get A Quote" button above?