These Hose Boxes have been manufactured for the fleet of lorries that collect waste cooking oil, when they deliver supplies for one of the worlds largest fast food outlets, and then recycled into bio fuel, to be used to power the vehicles that collect and distribute the oil, and supplies.
Working Smart
These Hose container boxes are fitted to the fleet of lorries that deliver supplies, to the fast food outlets all over the United Kingdom and beyond.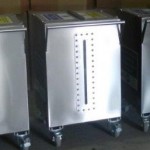 While the lorries are delivering the supplies they then collect the waste oil via hydraulic pipes directly connected to the waste oil containers this then allows them to suck the waste oil from the collection containers into the storage tanks on the lorries, which is then taken away to be processed into bio diesel.
There are two types of boxes, a large one for one side of the vehicle, and a small one for the opposite side,  these units will be connected to the oil collection Containers via a connection hose
See our article on the containers here
---
Method of Manufacture
Materials used : 2mm thick grade 304 Stainless Steel that has been specially "circle polished" for aesthetics
We then laser cut to the correct shape,
Bend and form into the correct shape
Fully Tig welded

Acid clean

the Welds

and fully assemble with toggle clamps, pipe and hose fittings.
Some of the units are modified with extra mounting channels to fit the Rigid version of the lorries and the rest are for the Artic lorries.
Get in touch and lets see how we can help you