Congratulations to welding specialist Lee Tannahill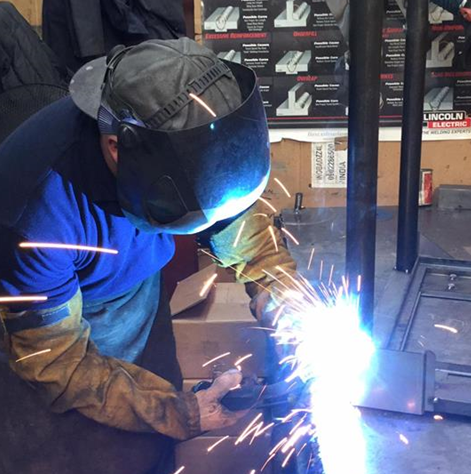 CONGRATULATIONS TO SAINT ANN'S SHEET METAL WELDING SPECIALIST LEE TANNAHILL ON YOUR LATEST QUALIFICATION
Lee Tannahill is a Saint Ann's Sheet Metal welding specialist. After 5 years in the job, providing services to clients all across the East Midlands and the UK, he continues to grow and expand his skill set. From entering the job aged 33 Lee has been training for Level 1 & Level 2 diploma in welding and fabrication from Central College Nottingham (formerly South Nottingham College). In his qualification there are ten pathways which include manual welding, rail welding, structural steelwork, pipework, fabrication and plateworker. For any of these pathways Lee had to demonstrate compliance with statutory regulations and safety requirements, interpreting engineering data and working efficiently and effectively in engineering.
Lee left school too early to receive his school qualifications and until entering the Saint Ann's team it was not an option he had considered. Company Director Dave Bloomer originally suggested looking into the idea and within only a couple of months the wheels had been set in motion. Not only would Lee see through the years gaining qualifications and working on a myriad of Sheet Metal projects but he has also been part of the various advancements in Laser Cutting Sheet Metal technology.
Lee said, "Once I had started I wanted to stick around and see the machines and how they work." The most notable technological enhancement in Lee's time at Saint Ann's was the Trumpf TruLaser 5030 Fibre laser cutting machine.
Workplace learning will continue to be a valuable part of the Saint Ann's staff training process. From laser cutting sheet metal and CNC punching to welding and fabrication, Saint Ann's sheet metal standards are maintained by highly trained specialists.
We wanted to commend Lee Tannahill on both his excellent achievement qualifying in welding and fabrication, as well as his 5 years of service at Saint Ann's Sheet Metal in Nottingham.