CNC Punching Sheet Metal
CNC Punching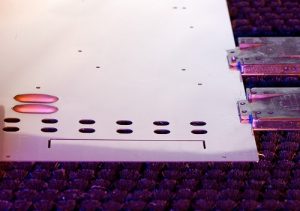 Despite the numerous advantages of laser profiling, it is not always the most appropriate or cost-effective method of producing a sheet metal flat pattern. After over 50 years in the industry we feel certain that CNC punching offers a viable and often cheaper alternative to laser cutting in areas such as:-
Cutting pre-coated materials such as plastisol and leather grain materials.
Forming of dimples, louvres and other raised profiles.
Punching a high volume of holes, slots into material. There is also the possibility of using a multi-tool format that allows numerous profiles to be produced with each individual hit.
CNC Punching production benefits from a lower capital cost than lasers, and also lack the need for cutting gases that are required in the laser cutting process. CNC punching therefore is often charged out at a lower hourly rate allowing for cheaper piece part prices.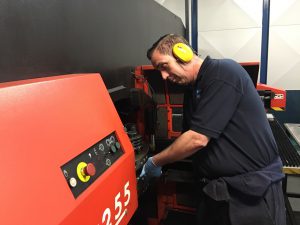 Our setting and operation CNC Punching expert Paul Butler  has 20 years' experience operating the CNC punching machine click here to read his interview

CNC Punching Capabilities
We run an Amada Europe 255 machine here at St Ann's which is capable of the following:-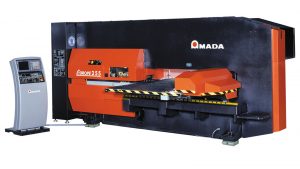 Workable Maximum sheet size 2500 x 1250mm sheets, including materials such as Mild Steel, Stainless Steel, Aluminium, Zintec, Galvanised, Brass & Copper
Maximum material thickness 2.0mm Mild Steel, 1.5mm Stainless Steel
Maximum hole diameter (single hit) 75mm diameter
27 tool station including 3 x Auto Index (rotating)
Up to 600 hits per minute
Examples of punching include
Working together
One of the main advantages St Ann's Sheet Metal have over the more traditional laser cutting companies is the ability to combine the benefits of both the CNC punching machine AND the fibre laser cutter we have on our premises. As with a number of existing production jobs, we take the best of both machines and use that to offer the most cost effective method of production.
Laser cutters offer an unparelled advantage for profiling external and some internal profiles over CNC punching, but where products often have a lot of repetitive hole patterns the punch facility comes into its own. St Anns have therefore developed a technique which allows the laser to perform at its best and produce the flat pattern and larger profiles, but then these parts are loaded onto the punch machine and the high speed hole punching on the punch press produces the holes far quicker than the laser could achieve. Conversely, we have also punched profiled into the sheets, and then placed these onto the laser afterwards to have the individual parts profiled out. This allows us to efficiently produce the piece parts and offer value for money to the customer at the same time. Please see some examples below.
"We are big enough to cope, but small enough to care for all your Sheet Metal Requirements"

Gary Holmes - Technical Sales.