Get to know our top of the line laser and what it can mean for your business.
We here at Saint Anns are very proud of our state of the art Trumpf 3030 fibre laser cutter. It's laser beam has a typical radius of 0.15mm (0.006 inches, for our "distinguished" readers). This means that our laser is more than capable of cutting complex and intricate patterns.
With the technology behind our laser as well as the skill of our laser operators we're proud to guarantee that we can cut up to 20mm in Mild Steel without losing definition.
And with our ability to scale up we can provide you with both the quality and quantities your business needs to succeed!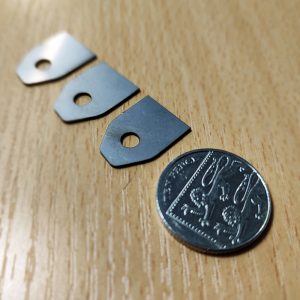 Not just speed and accuracy, but volume as well.
Not only is our laser capable of delivering precise cuts, but due to Trumpf's unique nozzle design, it's more than capable of cutting them at an increased speed and with a reduced ecological impact. This is due to its significantly lower nitrogen consumption when compared to other lasers.
And if that wasn't enough our Autoloader facility removes the need for manually loading material. The added benefit of this is that we can run our laser 24/7! This gives us the advantage of being able to scale up production without increased costs!
So that gives us the ability to produce on the scale of a larger company without sacrificing the agility, flexibility and level service we pride ourselves on!
Why choose laser cutting?
Whilst laser cutting can be seen as slightly slower than a CNC punch, it just can't be rivalled on accuracy and quality.
And when you take our Trumpf autoloader into account and the unique ability it provides us to operate 24/7, it more than compensates for the lack of speed vs. the punch.
The only time consuming process in the laser cutting operation is the loading of material into the autoloader. This is offset again by the autoloaders ability to load and unload at the same time. And it's ability to stack multiple sheets at once.
As the laser head is contactless it significantly reduces the chance of the material warping during cutting due to heat. Which can be a problem with other cutting methods.
And as our laser is programmed from our customers CAD drawings our dedicated CAD and Programming Engineer can ensure that the maximum number of parts can be fit into a single sheet. Providing savings in both time and material!
And due to how lean the manufacturing process is and how clean the quality of the cuts when compared to other cutting methods, such as water-jet, flame and plasma cutting, there's no need to additional tooling!
These factors combined mean there's a significant decrease in our material and labour costs, something that we're happy to pass on to our customers!