Sheet Metal Companies
choosing the right one Part 2 (part 1 available here), is vital part of your business success, in this article we will discuss 3 things (Cost, Reliability/Integrity, Outsourced Requirements). We think you should consider these important factors while choosing the Sheet Metal Companies you work with
5 Cost
We all want the best job done for the least amount of cost to ourselves.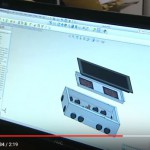 However its essential that the sheet metal companies you choose should discusses with you the benefits of a redesign. By using new technologies to ensure you will benefit from using new methods of manufacture. Its not always suitable to make the product the same as before,although this can be suitable sometimes. 
Good Sheet Metal Companies can ensure the reduced cost of producing your components, by ensuring they develop them efficiently. That is to say the company will look at your drawings. Ensure the specifications and materials are correct in order to produce all components using the best materials for the job. It may be that in fact that a component could be produced more cost effectively and should be re-engineered. Sheet Metal Companies should be willing and able to discuss redesigning a component  if they believe this saving can be passed on to you 'the client'. Our Development Assistance page here
6 Reliability / Integrity
As a client you will want to ensure that the Sheet Metal Companies you choose are reliable and honest with you.
 One way to do this is to find out if their previous customers would recommend using them. Often Sheet Metal Companies display these on the website. They should have testimonials available on their site for you to view. Ours are here. Recommendations can help you to trust the metal company to quickly and efficiently produce exactly what you require. Communication between yourself and the Sheet Metal Company is essential.

7 Outsourced Requirements
It is most important to understand before choosing a particular Sheet Metal Company what they can actually do for you. A company may advertise the fact they can offer you exactly what you want, however you should be aware of any outsourced business the company themselves may require in order to satisfy your requirements. The level of outsourcing a company requires may result in you paying more in the long run. This also makes your supply chain more fragile, as you will be dependant on a third party company It makes sense to search for a Sheet Metal Company that can complete the job you want to the level of satisfaction required without having to outsource at all.


 I'm here to help so get in touch and let me quote for your Technical Sheet Metal Work, from flat to finished product
"We are big enough to cope, but small enough to care for all your Sheet Metal Requirements"
Gary Holmes - Technical Sales.
Recent News Articles
Search our Site