Cost saving design
Is it really the way to go?
It is hard to know where to draw the line when it comes to making cost savings on your product. Design and development assistance play such a big part of the Saint Ann's Sheet Metal process that we are full of tips and tricks that are designed to strengthen and save, but also make dramatic cost savings
Reduction and simplification are key to getting better value for your money. The following advice should only be used for guidance towards a new direction, for bespoke design advice you need to speak to a specialist. While in many instances these techniques would be beneficial, it is important you don't sacrifice the quality or value of a product by misapplying them.
Tox Joining
A brand that represents a reduction in cost, time and poor quality joints.
Tox jointing is a well reputed method of joining materials with a press operation. Press-joining is the perfect method for joining coated, painted and dissimilar materials. It also has many advantages over riveting and spot welding, not least the cost saving factor.
Its benefits include not being held back by heat related issues. On galvanised steel (steel with a zinc coating) the zinc is subjected to welding temperatures. Zinc is used for protecting metals from erosion. When welding with zinc coated metal, a fume called zinc oxide is produced. On of the problems with this is that the fume can cause flu-like symptoms known as metal fume fever. Furthermore the weld is not as strong when the zinc coating has interfered with the process.
Tox joining is becoming more and more common in the car manufacturing industry because it saves time and money. The strength of the join is certainly not in question. From experience working and designing with welds and Tox joints, the strength has proven on many occasions to be as good if not better.
http://www.tox-uk.com/
Hinge Replacements
The works best when replacing multiple hinges with one operation.
Recently, we were asked to product a 15 door sheet metal cabinet (3×5). This involved 15 hinges to be fitted on the door to each cabinet partition as well as the unit itself.
On this recent unit build, we had the opportunity to replace 15 hinges per unit by threading a single bar through the two components. This was previously a three part hinge per partition, that was reduced to one bar through each section of five. Other than this the design was only adapted so that each door would simply sit on the bar for a very smooth movement up and down.
The same potential is available for single partitions as this still eliminates the need for additional screws or welding.
Toggle fastening

When customers needs must, Graham Gee can find a solution to save you time and money.
This is a homespun method of our lead designer Graham. Compared with the rough and ready look of a smoothed off weld after a lot of work, toggle fastening is clean, simple and very effective.
It involves designing and cutting an additional toggle on one side of a bend and an matching space to sit on the other side. This allows for an interlocking system to prevent any shift in position even under a heavy load.
The design involves little extra work after the cut. This means substantial savings can be made on materials and labour by removing the welding stage.
Eliminate Fixings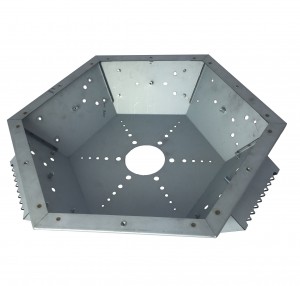 Reduce the cost, speed, manufacturing time and assembly time. Easier said than done, right?
As we are able to laser cutter to cut intricate internal cut-outs, on a recent project we eliminated 60 individual fixing points by bending the casing in one piece. Which also reduced the total amount of bends from 42 down to just 24. Now, this may not seem like an easy task for your requirements but fortunately Saint Anns Sheet Metal are well qualified to take on that challenge. Our team working on design assistance are here to help and have a track record of designing to suit ever need, including to eliminate unnecessary fixings and operations.
Graham had this to say: "On seeing the item that the customer brought to us to replicate, I instantly saw room for improvement on the manufacturing method. By redesigning the unit and altering the method of fabrication we would be able to reduce the cost, speed, manufacturing time and assembly time as well."
Material Thickness
Just when you thought the design had been enhanced enough, a change in material thickness is next.
After making a structural improvement such as the reduced fixings, you can then assess the need for the previously required material thickness. By making these enhancements to your design the unit is usually made more rigid, allowing us the ability to reduce the thickness of the material to save more cost.