Experts in Laser Cutting and Sheet Metal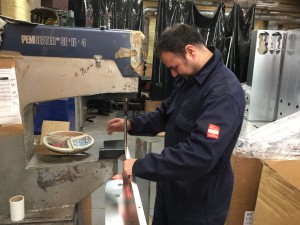 If there is one thing we are never short of at Saint Ann's sheet metal it is happy faces. Happy faces of customers, contractors and of our team. Our team are here to ensure our customers are satisfied at every stage of every job. As Richard Branson rightly said: "take care of your employees and they will take care of your clients". That is part of our approach here at Saint Ann's, and that is why it has been so important for us to send that message out online too.
Our Meet the Team page is here for visitors to make an impression online and to ensure you know who you are talking to. Maybe you want to know their level of experience or what qualifies them to be working on your project, look no further, if there is one thing we are not short of it is highly qualified and experienced staff in the Saint Ann's team. CNC machine operators, laser cutting specialists, CAD software experts and many more.
The latest additions include:
Andy Wass – CAD Programmer
Andy is the Saint Ann's CAD (computer aided design) programming specialist. Over the 25 years since he joined the company Andy has gone from manually programming 'G-code' to becoming a trained expert on Radan software. Read More
---
Wayne Carter – Fiber Laser Operator
From a long history at Saint Ann's on the press brake machines (predominantly AMADA press brakes), Wayne was trained to use the new fiber laser cutter. This was a pivotal part of Saint Ann's 'cutting edge' leap into the emerging fiber optic technology. Wayne has been working for St. ann's for over ten years and is currently the primary operator of the TruLaser Fiber Optic Laser Cutter. Read More
---
Lee Tannahill – Welding Specialist
Lee Tannahill is the Saint Ann's Sheet Metal welding specialist. After 5 years in the job, Lee has developed and grown along with the business and is now a highly qualified member of the team with a wealth of experience and training. Read more
---
Carl Withers – Machine Operator
Carl sees himself working at Saint Ann's for a long time to come and has built up a wealth of different skills in his first year with the company. He enjoys working with sheet metal and the various different processes.
---
Do you work at Saint Ann's Sheet Metal?
Sign up to become one of the growing number of faces representing our company on our online Meet the Team Page. There is no role too big or too small for any member of the team wanting to represent the company online. Contact us online to send your details, or to arrange an appointment with one of our website administrators.