Amendment 3 | 17th edition – Wiring Regulations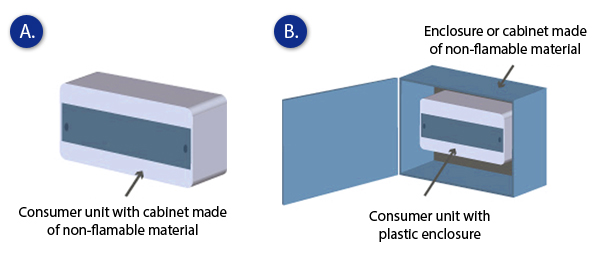 An overview of changes proposed in amendment 3 of the 17th edition of Wiring Regulations. To be implemented on the 1st January 2016.  
Centring on fire protection, amendment 3 includes proposals for consumer units to have non-combustible enclosures rather than plastic. It also introduces requirements that the wiring systems and escape routes are to be supported so they're not compromised in the instance of a fire. It is being introduced in response to reports of a recent trend of increasing fires involving consumer units having a moulded thermoplastic enclosure.
The main issue has been summarised by London Fire Brigade investigator Charlie Pugsley as a loose connection in a terminal causing a high resistance connection that leads to a fire. The National Wiring Regulations committee have considered these issues and proposed additional measures for consuming units within a new regulation in BS 7671 – as part amendment 3 – which also includes non-combustible enclosures.
Ferrous metal, such as steel, are deemed to be an example of a non-combustible material. Steel will undoubtedly be the material most commonly employed in the manufacture of the enclosure or cabinet. It is now the responsibility of the manufacturer to provide suitable evidence to support the claim of non-combustibility, but it is not currently known what criteria would be used to determine the non-combustibility of a material.
To minimise the risk of escaping flames from an enclosure or cabinet the installer must seal all openings into the enclosure or cabinet. High quality workmanship and materials are vital.
How to comply with Amendment 3
At this stage, allow me the opportunity to introduce our company to you.
We are a sheet metal company based in Arnold, Nottingham, specialising in sub-contract manufacturing. We have been trading over 30 years in the sheet metal industry! This enables us to offer a high level of workmanship in line with ISO standards.
At our works we have currently invested in a state of the art Trumpf 3030 fiber laser with cutting capabilities as follows:
Mild Steel 0.7mm to25mm
Stainless Steel 0.7mm to 12mm
Aluminium 0.7mm to 10mm
Also Galvanised, Zintec, Copper and Brass
1x Amada 255CNC Punching Machine
4x CNC Press Brakes
Spot welding and Tig & Mig Welding
2x Pem/Clinch fastening inserts
We also have a close network of suppliers, allowing us to provide customers with high quality of material finishes such as precision machining, should it be required.
Thank you for taking the time to read this information. If you require any more information do not hesitate to contact us.